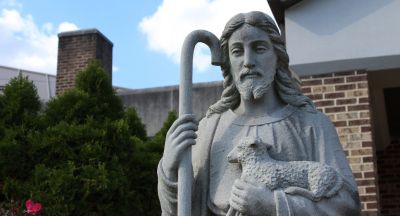 August 27, 2023
Dear Parish Family,
Every member of our parish family is important, loved, and cherished. We realize that in a significant way when a member of our parish family goes home to God. Just like a family grieves when a member of the family goes home to God, so our parish family mourns when one of own dies. That's why we hold in our hearts and prayers those who have lost a loved one. Although we mourn with complete faith in Eternal Life, we still have that sense of loss and sadness. It is the cost of love.
That love has been felt with the passing of Ed Kantes on Sunday, August 20, 2024. This Pittsburgh native eventually made his home in Camp Hill with his wife, Helen, their children, and now grandchildren. While Helen has been an integral part of the fabric of the Good Shepherd Community, Ed was right there with her, making it all possible. He enjoyed volunteering at church events, and he became known as a "Fish Fry Connoisseur" who greeted our guests as they came for our Lenten dinners. Ed made the eggs at our breakfasts for veterans, volunteers, and parish leaders. He ran what seems like miles wires and cables for IT networking in our parish office and choir loft. Just a few weeks ago he installed a wireless projector in our office conference room. He was a key member of our kitchen team during our Pandemic Curbside Dinners.
When Ed wasn't helping at the church, he assisted Helen in her role as a Girl Scout leader. Over the years, he tirelessly helped run the cheerleading program at Good Shepherd Catholic School, After School Care program, After School Care Clubs. Ed was hard-working, creative, and could fix anything. He always had a good joke and was always there for people when they needed him. Unassuming, gentle, and a friend to all, Ed was faith in action. Oh how we will miss him!
Our hearts go out to his loving family. Our sense of loss and shock cannot begin to compare with theirs. Helen, you are always here for us! We love you and are here for you, now and always.
The Funeral Services for Ed are:
Tuesday, August 29, 2023 • Viewing: 6:00 p.m. to 8:00 p.m.
Myers-Baker Funeral Home, 1903 Market Street, Camp Hill
Wednesday, August 30, 2023 • Viewing: 10:00 a.m. to 11:45 a.m.
Funeral Mass: 12 Noon • Good Shepherd Church
Followed by Luncheon in the Parish Hall
A private burial service will be held with the family later this week at Gate of Heaven Cemetery, Mechanicsburg.
Eternal rest grant unto him, O Lord, and let Your perpetual light shine upon him.
May his soul and the souls of all the faithful departed, especially his dear daughter Michelle, rest in Peace. Amen.
Love and prayers,
Father Neil Sullivan
Please note the parish office will be closed on Wednesday. The parish office will also be closed on Tuesday for a previously schedule staff professional development day.