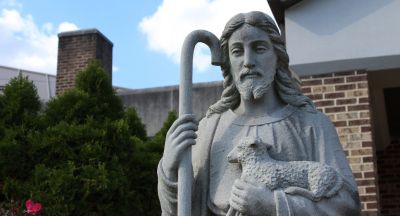 July 16, 2023
Dear Parish Family:
This Parish Year of National Eucharistic Revival in the U.S. coincides with a special anniversary for the Universal Church. December 4, 2023 marks the 60th anniversary of the Constitution on the Sacred Liturgy of the Second Vatican Council. Issued on December 4, 1963, this first major document of Vatican II ushered in a process of renewal and revival.
When Pope John XXIII, now Saint Pope John XXIII, announced the Council in January 1959, it shocked the world. There hadn't been an major assembly of Roman Catholic leaders in nearly 100 years. Vatican II called about 2,500 bishops and thousands of observers, auditors, consecrated women religious, lay men and women, and ecumenical and interfaith representatives to four sessions between 1962 and 1965.
John XXIII called the Council very soon after he was elected. He saw Church's responsibility to make the message of faith amid the challenges of the changing world. He called for an Aggiornamento, a freshening of approach and practice that would better enable the Church to do God's work and serve the whole People of God on earth. He also called for a Resourcement, a return to our roots to look at the practices of the Early Church and how they could be applied in the modern world.
Thinking about Vatican II makes us think about change. Everything from the way Mass was celebrated to the style of nuns' habits. Its easy to remember the adaptations and different methods of expression that were external. But at its core, the Council was about internal renewal. While this renewal is certainly expressed in the externals, those externals must come from a movement of the heart. The Constitution on the Sacred Liturgy called it full, conscience, and active participation.
Music was a special tool used to move the heart. The music of those first years became the soundtrack of the renewal. Were some of them beautiful? Absolutely! Were some of them a bit hokey? Of course! But they moved us. I am 55 years old. I grew up with that music. I know that God used that music to speak to me, form me, and ultimately plant the seeds of my vocation. Maybe that's a bit dramatic, but I bet that some of those songs had effects, big and small, on others, maybe even you.
Here at Good Shepherd, we are planning of very special evening to celebrate and remember those songs on September 30, 2023 at 6:30 p.m. in our Parish Hall. It will be a Coffee House event with a Spaghetti Dinner and of course live music and sing-a-longs. More details will be available later this summer. In the meantime, is there an oldie but a goodie you would like to hear at the Coffee House? Email Joreen Kelly at jkelly@thegoodshep.org and we'll do our best to put it in the showcase.
Love and prayers,
Father Neil Sullivan