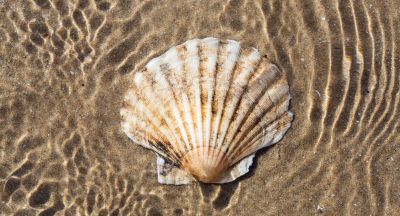 July 23, 2023
Dear Parish Family:
Tuesday, July 25, is the Feast of Saint James the Apostle. James was the big brother of John the Apostle. He was the son of Zebedee and Salamone. He is sometimes called James the Greater to distinguish him from the Apostle James who is called James the Less. James was the first Apostle to be martyred, which tradition holds happened in 44 A.D.
The Way of Saint James (in Spanish: El Camino de Santiago) is the pilgrimage route to the Cathedral of Santiago de Compostela in Galicia in northwestern Spain, where tradition holds the remains of the apostle Saint James are buried. The Camino was an important Christian pilgrimage destination during medieval times, together with Rome and Jerusalem. The Way has any number of routes to Santiago de Compostela.
The scallop shell, found on the shores in Galicia, is the symbol of the Camino. It has different meanings. One of the legends is that after James' death, his disciples shipped his body to the Iberian Peninsula to be buried in what is now Santiago. Off the coast of Spain, a heavy storm hit the ship, and the body was at sea. Later, it washed ashore undamaged, covered in scallops.
The scallop shell also is a metaphor. The grooves in the shell, which meet at a single point, represent the various routes pilgrims traveled, arriving at a single destination: the tomb of James. The shell also represents the pilgrim: As the waves of the ocean wash scallop shells onto the shores of Galicia, God guides the pilgrims to Santiago. The scallop shell had practical purposes as well. It was the right size for gathering water to drink or for eating out of as a makeshift bowl along the Camino.
Tens of thousands of pilgrims set out each year from their front doorsteps or from popular starting points across Europe, to make their way to Santiago de Compostela. Most travel by foot, some by bicycle, and a few travel on horseback. Many consider the experience a spiritual adventure to remove themselves from the bustle of modern life. Our parishioner, Katie Gleeson and her daughter, Lily, just completed the Camino. We also have parishioners preparing to make it next year.
We are all pilgrims on a journey. The most important journey: The Journey to Heaven. The great part is that we don't make the journey alone. We make it with and toward God. Jesus walks with us. Mary and all the saints cheer us on. And we walk with each other. May Saint James keep our eyes on the destination and protect us as we make the way!
Love and prayers,
Father Neil Sullivan