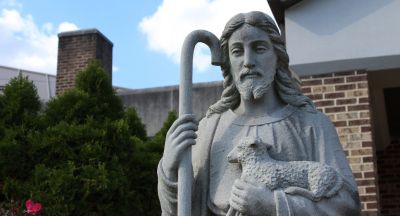 July 9, 2023
Dear Parish Family:
It's hard to believe that we are just about to reach the halfway point of summer. Hopefully, this summer is providing everyone some time for relaxation and rejuvenation. Summer is a chance for us to slow down a little bit, to press "pause" and "reset" in the business of our regular schedule and get out and enjoy some fresh air, a change of scenery, or reconnect with family and friends.
If we are fortunate enough to take a vacation away—to the shore, mountains, historic sights, etc, or using the "staycation" model of day trips or just some time off at home, some "downtime" is important to nurture body, mind, and spirit. Do something different! Do something fun! Take a break! Take it easy! Take a breath! But always remember, we can never take a vacation from God or our Faith. We keep Jesus in our summer with daily prayers and Sunday Mass, even when we are traveling. If you are trying to find a local Church for Mass when away from home, go to masstimes.org. They have the Mass schedules for wherever you might be.
As a kid, every year when my family would get on the road for our summer vacation, before my dad turned the key and the engine started, we would say the Our Father, Hail Mary, and Glory Be. As a kid, I'm not sure I completely appreciated it. I wanted for us to get going. The sooner we started the sooner we would get to our destination. But it created a significant memory for me. To this day, when I get in the car to head out for a summer vacation, I say those prayers. It's a way of asking God for protection and to remember that He walks every step of the journey with us.
So consider a prayer before you start your journey. Maybe it will be the Our Father, Hail Mary, Glory Be, or even the Guardian Angel Prayer. Here is another suggestion:  
Our Lady of the Highway, be with us on our journey,
for all your ways are beautiful and all your paths lead to peace.
O God, who with unspeakable providence
does rule and govern the world, grant unto us, your servants, through the intercessions of our watchful mother,
to be protected from all danger
and brought safely to the end of our journey. Amen.
Next weekend is the Annual Missionary Cooperative and we welcome Father Vic Subb from the GLENMARY Home Missioners. With Father Vic here to take Confessions and Mass, I will take a little break on Saturday evening and Sunday. Many have asked if I will take a vacation this summer. I will be on Retreat July 31 – August 4 and then up to Cape Cod to see my family August 9 – 16. I am very grateful to the priests who will cover the Mass and Confession schedule during that time.
Love and prayers,
Father Neil Sullivan