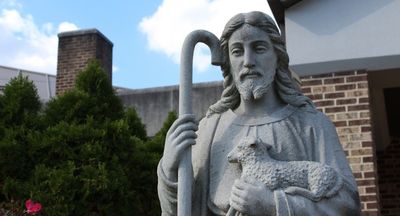 November 13, 2022
Dear Parish Family:
I hope that everyone is enjoying Veteran's Day Weekend. We remember all veterans, but in a special way the veterans of our parish family. Thank you for your service!! We also pray for the protection and well being of all military personnel at home and abroad. May God keep them safe as they keep us secure.
Please remember next Sunday at the 11:30 a.m. Mass we will have a special celebration of Good Shepherd School. We will remember and honor it's legacy with gratitude and grace! Please join us for a special reception following the Mass in our parish hall. There is no charge to attend the reception but we do require you to RSVP by calling the parish office or using the QR code on the front of the bulletin. This allows us to prepare enough for everyone attending.
Many have asked about VISTA and the lease of our Parish Education Center on Market Street. As announced on July 1, 2022, we entered into a three-year lease agreement with Vista Autism Services. VISTA provides high-quality autism services to individuals with autism and their families. Programs will grow over time. Right now, the space is used for their Adult Day Services with future expansion to Early Intervention and High School Programs. VISTA has been paying rent and their share of expenses since July 1, 2022. Good Shepherd retains use of the gym outside of VITSA's operating hours which are Monday through Friday, 8:00 a.m. to 5:00 p.m.
Our Thanksgiving Grocery Gift Card campaign continues through November 17. Please drops cards off at the parish office by this Tuesday so that families in need can shop for their Thanksgiving Dinner. Next weekend (November 19/20) is our Knights of Columbus Pack the Pick-Up drive. Canned and food staples can be dropped off at the pickup that will be in parking lot. The Knights will bring the "harvest" to New Hope Ministries Food Bank in Mechanicsburg.
The last couple of weeks have been tough. As you know, our parish manager, Bryan Pritchard and his wife Samantha lost their 14 year old son Nickolas who struggled with a brain tumor and brain injury for over seven years. The Pritchards are Good Shepherd parishioners. Our prayers and hearts continue to hold Bryan, Sam, and their children.
We appreciate your patience and understanding during this time. Bryan is easing back into his regular schedule and other staff members are out with planned vacations. My recovery from pneumonia is complete but the broken rib is taking more time than anticipated. Please note that Father Arena will be out this week and next week for retreat and vacation. We are working hard as a team and doing our best, especially as the holiday approach.
Love and prayers,
Father Neil Sullivan