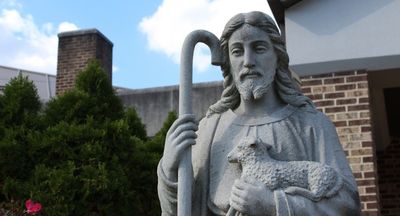 November 20, 2022
Dear Parish Family:
Today is the Solemnity of Christ the King. This feast is celebrated on the last Sunday of the Liturgical Year. Next Sunday is the First Sunday of Advent and we start a new Year of Grace. Honoring Christ as King focuses our hearts and minds on Jesus as our ruler and head. He is the beginning and end of all we are. We belong to Him. All we do, we must do for Him. We must live as members of His kingdom.
Thursday is Thanksgiving Day. The very important act of giving thanks is at the center of who we are as Catholic Christians. The Eucharist—the source and summit of our lives—comes from a Greek word that means "thanksgiving". Thursday at 8:30 a.m. there will be a very special Mass to offer thanks and praise to God for all His blessings.
As is the custom here at Good Shepherd, our Council of Catholic Women have provided apples to be blessed at Mass on Thanksgiving for you to take home for your Thanksgiving tables. The idea is that you share the apple at the table, and as each one takes a piece, they share what they are thankful for this Thanksgiving.
Thanksgiving is an important opportunity for all of us to stop and remember all that we have to be thankful for – all the blessings that God has gifted us with. I am thankful each and every day to be your pastor. I am constantly inspired by your generosity and the giving of your time, talent, and treasure throughout the year. But there is so much more than that – your goodness, holiness, kindness, graciousness, patience, and understanding are a true gift to me. You never cease to amaze, humble, and inspire me. I have so much to be grateful for because of you. As we pause to offer thanks as a nation for all of God's many blessings, know that I am so thankful for you and to you, and for the blessing you and this wonderful parish are in my life.
As the weather and liturgical seasons change, there is also an  unexpected changed in clergy personnel. Due to an immediate need, Father Steven Arena has been assigned as parochial vicar at Saint Catherine Laboure Parish in Harrisburg. Saint Catherine's has a larger Mass schedule than we do. Earlier in the Fall their parochial vicar was reassigned outside the diocese. This change is  effective immediately. We wish Father Arena all the best and thank him for his four months with us. A parochial vicar is not available for Good Shepherd at the present time.
Love and prayers,
Father Neil Sullivan