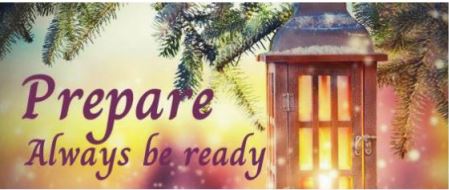 November 27, 2022
Dear Parish Family:
Happy New Year! No, it's not January 1 yet. But today is the start of the new Christian Year. Today we celebrate the beginning of a new Liturgical Year with this First Sunday of Advent.
Advent (from the Latin ad venio, "to come") is the liturgical season anticipating the coming of the Lord. While the days grow shorter and colder, we prepare for the Savior who comes to kindle our hearts with His light and His love. The Advent season is filled with preparation and expectation. Everyone is getting ready for Christmas — shopping and decorating, baking and cleaning. Sometimes we can become so busy with these preparations that we might lose sight of the real reason for all this activity: the Word Made Flesh coming to dwell among us. So this Advent, let's try to preserve the spiritual focus of this special season of preparation
amid the hustle and bustle of the countdown to Christmas.
In our shopping and baking, let us remember to purchase and prepare something for the poor. When we clean our homes, perhaps we can share some of our possessions with those who lack many necessities. While we are decking the halls of our homes, let us not forget to prepare a peaceful place in our hearts wherein our Savior may come to dwell.
Every January 1, millions of people make resolutions for the coming year–and, before the month is out, most will have broken them. Still, the impulse is a good one. As disciples, we know that we are far from perfect, and anything that helps us become a better person is worthwhile. So on this First Sunday of Advent, why not make some spiritual resolutions for our lives of Faith, Hope, and Love?

Please be sure to check out our parish special Advent Calendar in this weeks bulletin. It gives some ideas and reminders of Advent Opportunities for grace and spiritual growth this Advent. Just as Santa is making a list and checking it twice, maybe we can do the same for our relationship with God this Advent. Remember, God came to help us grow closer to Him. So how will we get closer to Him this Advent?

Each Advent is a gift of the Lord, to bring us back to what is most important in life. On this first day of this new liturgical year, on this first day of the rest of our lives, let us ask the Lord for the grace to make this a holy year, a year of prayer, a year of increased love, a true year of the Lord! The Lord is coming! Let us embrace Him! So, a very happy and blessed New Year to all of us!
Love and prayers,
Father Neil Sullivan