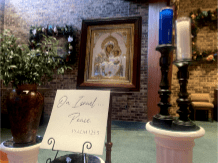 October 15, 2023
Dear Parish Family,
This week has been filled with horrific news and images from Israel. Sometimes there are no words to express what we see and hear. It is those times, more than ever, that we need to lift up our hearts to God in prayer and compassion.
Bishop Timothy Senior, Bishop of Harrisburg, released the following statement this past Wednesday on the terrorist attack against Israel and the continuing conflict in the Holy Land:
Like many, I found myself lost for words this weekend when I heard of the horrific violence Hamas unleashed on our Israeli brothers and sisters. My heart is heavy as news reports continue to detail the evil being inflicted, with no regard for the welfare of innocent civilians, no regard for women, children, and the elderly.
I join in echoing Pope Francis who said on Sunday, "May the attacks and weaponry cease. Please! And let it be understood that terrorism and war do not lead to any resolutions, but only to the death and suffering of so many innocent people."
I call on all people of our Diocese to pray without ceasing for all those killed, displaced, and impacted by this terrorist attack. We pray God will grant eternal rest to the deceased, console those grieving, comfort those in fear, and guide our world leaders so this conflict may be brought to an end.
To the Jewish community in Central Pennsylvania, we stand in solidarity with you, praying that peace will come to the Holy Land.
In our church, we have a small display to encourage prayers for peace and healing between the ambo and the baptismal font. The icon was made in Israel. It presents Jesus and Mary with the features of the people of that region. The olive branches represent peace. The blue and white candles represent the colors of Israel. Completing the display is a line from Psalm 125 that simply says: On Israel, peace.
The following prayer may be helpful to use during this time:
Heavenly Father, we come before You filled with love and concern
for the land of Israel.
We lift up our prayers for the peace and safety of its people and
all those who dwell there.
Lord Jesus, Prince of Peace, bring harmony where tensions and conflicts persist. Holy Spirit, grant wisdom to her leaders that they may govern with justice. Guide the international community in its efforts to support peace in this region. Mary, Queen of Palestine, pray for us. Amen.
Grace and peace,
Father Neil Sullivan