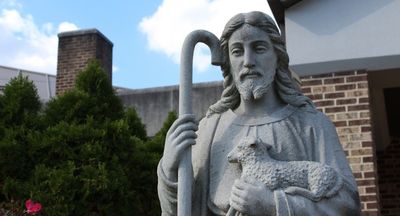 October 16, 2022
Dear Parish Family:
One of the many gifts of living in our part of the country (and really the world) is that we are able to experience the four seasons. We are able to see God's plan and constant care at work as things change and progress. The arrival of the true Autumn weather reminds us that God is always at work … and His work is always beautiful.
October 22 is our Oktoberfest with food and fun for all. Please stop by the Parish Hall after Mass for a "first-look" at our raffle baskets, assembled and donated by generous parishioners. Don't forget your pork/sauerkraut tickets—so you can relax once the festival is over and have a home-cooked meal to-go.
One last request for cakes, additional raffle baskets, and volunteers! We could use a few more cakes for our cake wheel….(Oktoberfest Cake calories don't count!) We can never have too many raffle baskets! (Wait until you see the amazing creativity of our parishioners!) And many hands make work light and more fun! Sign up online to help for a few hours— we still need a handful of cooks, cashiers, bingo callers and clean up crew. Check out pages 8 and 9 in the bulletin for the online sign-up. Not comfortable with signing up online? Just call the Parish Office and our Office Staff will be happy to add you to the volunteer list!
November 20 is our Good Shepherd School Legacy Mass and Reception. Since 1953, Good Shepherd School has blessed and shaped countless lives. Faith, knowledge, and service abounded in her hallways and classrooms and in the hearts of the GSS Community. Although the painful decision had to be made in Spring 2020 to suspend operations due to declining enrollment, GSS's rich legacy continues in the parishioners, alumni, parents, families, faculty, staff, benefactors and all who form the Good Shepherd School Family. To honor this important legacy, please join us for the 11:30 a.m. Mass on November 20. Reception immediately follows in the Parish Hall. Individuals and families MUST RSVP for the Reception. Please see the sign up on page 10 of the bulletin.
Hope to see you and your family at our Parish Oktoberfest next weekend!
Love and prayers,
Father Neil Sullivan