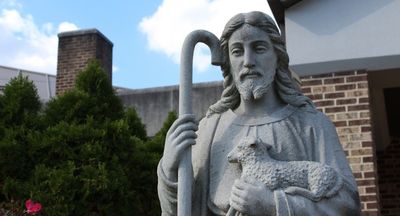 September 25, 2022
Dear Parish Family:
So we have reached the last week of September! What happened? Wasn't it just Labor Day? I hope that September has been a good month for everyone and that the last three months of 2022 will be filled with all kinds of grace and blessings! October begins this Saturday. October has some very special celebrations and opportunities here at Good Shepherd. Here's just a quick look.
October is Respect Life Month. This Saturday, October 1 from 9:00 a.m. to 12 Noon we are having a Respect Life Symposium in the Parish Hall. Four Guest speakers will share information about the dignity of human life, how to promote respect for all life, and what we can do to support post-abortive counseling. All are welcome!
October is the Month of Our Lady of the Rosary. The Rosary will be prayed each weekday of October at 4:00 p.m. in the portico.
Friday, October 7 we will host the relics of Saint Padre Pio with a special Mass at 6:30 p.m.
October 4 is the feast of Saint Francis of Assisi, the patron Saint of Animals. We will have the traditional Blessing of Animals next Sunday, October 2 at 2:00 p.m. in the portico.
Tuesday, October 4 will be our Senior Adult Ministry Luncheon at 12 Noon in the Parish Hall. This program is for our 55 and over crowd. An Italian themed lunch will be served and we will have some special creatures to meet that serve as therapy pets. There is no cost to attend. There is an opportunity to make a free will offering if you like. Help us know how much food to prepare by an RSVP to the parish office by Friday (September 30) of this week.
October 18 is the Feast of Saint Luke. Tradition holds that Saint Luke was a physician. On Saturday, October 8 at 9:30 a.m. we will celebrate a special Mass with the Anointing of the Sick. This Sacrament is for those our are seriously ill, have a chronic condition, are advanced in age, or preparing for surgery. Please call the Parish Office by October 6 so that we can prepare for you. Please not that Father Arena and I will celebrate the Sacrament of the Sick with all our homebound visits during October.
October 22 will be our Oktoberfest with food and fun for all. Please see the special information about this exciting event on pages 8 and 9 of this weeks bulletin.
October 28-29 is our Second Annual Parish Retreat. Please consider attending this time away of prayer, reflection, and community.
October 31 is our Pilgrimage Bus Trip to Washington, DC to visit the National Bible Museum and the National Shrine. Page 9 has details.
We also have three Weddings and several Baptisms in October. Let us be thankful for so much Good News and so many Good Works happening here at Good Shepherd.
Grace and Peace!
Father Neil Sullivan