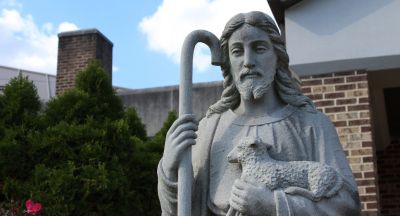 September 24, 2023
Dear Parish Family,
So a time has come … Bryan Pritchard has announced his plan to retire on December 8, 2023. Bryan has been invaluable to Good Shepherd over the last four years. Bryan joined our team three weeks before the COVID Shutdown went into effect. Bryan's background in communications and media made our transition to "virtual church" seamless. His creative and critical thinking guided us through very challenging times. His background in management and business brought us to a favorable cash position. His ease in building relationships renewed a sense of community in our parish. Bryan has been instrumental in righting the ship at Good Shepherd. He has served and led with distinction and humility amid personal tragedy and loss. Although his retirement will be a significant loss to us, we cannot help but be thankful for all he has been and done for us. Bryan will continue to be part of the Good Shepherd family. We wish him all the best as he begins this new chapter.
This change in our team provides an opportunity to review the operations and functions of our parish and what we need to do to keep Good Shepherd on a positive path as well as to enhance efficiency and advance the services we provide. I have been working with Mary Lacey from our Pastoral Council to develop a transition plan. Mary is the Senior Vice President for Employment Services at Select Medical. After collaboration with Mary and Bryan, we have announced the following positions as available: Parish Office Manager and Parish Finance Manager. Information on these positions is reprinted in this week's bulletin. Mary Lacey as well as Lisa MacLean and Mark Glessner from our Parish Finance Council will assist with resume review and interviews.
Another time has come … Without a parochial vicar, we have been able to manage our current Mass schedule. I am happy and humbled to be able to serve. However, the with the current schedule it's hard to find the necessary time for rest, renewal, and just catching one's breath. I want to be able to serve you with my best. While we can get outside coverage, it's not always possible. Effective October 1, 2023, the Wednesday 8:30 a.m. Mass will not be held at this time. I appreciate your understanding. When an additional priest is at Good Shepherd, it will be restarted.
That said, please note that I will be away this week for some time down at the shore with priest friends. Bishop Gainer will be here to cover the daily 8:30 a.m. Mass (including Wednesday) while I am away.
Grace and peace,
Father Neil Sullivan