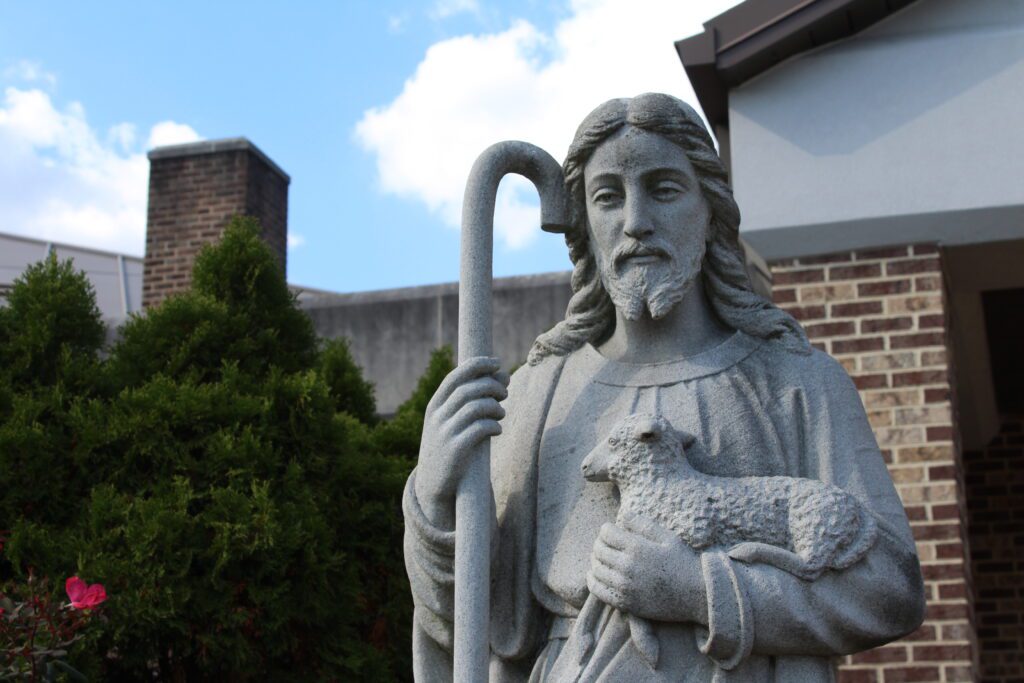 Fourth Sunday in Ordinary Time, Cycle A 
January 29, 2023. Saint Augustine. Great Teacher, Greatest Mind, Great Influence.
When asked to name the three most important virtues, Saint Augustine gave an interesting answer:
First, he said, humility.
Second, humility.
Third, humility.
Humility is one of God's favorite things. He longs to find it in us. Humility is the unifying theme of the eight Beatitudes – we just heard – that really summarize Jesus' teaching about how to live.
Looking carefully, we see a common denominator: the person who is bless-ed is the person who is not thinking about themselves all the time.
The poor in spirit and those suffering persecution realize they're not the center of the universe – God is.
The clean of heart realize that other people don't exist just for the sake of their pleasure.
The peacemaker is concerned about the needs and problems of others.
The merciful are concerned about the suffering of others.
The mournful not only refers to the grieving but also those aware of how the sin and bad actions affect others.
The meek cares more about getting things done than getting credit for doing things.
Those who hunger for righteousness realize that their life has a higher purpose, that it's part of a bigger story.
Underlying all the Beatitudes is this fundamental attitude that puts God and others ahead of one's self. 
This is humility.
God loves this humility, because it opens our hearts to receive His gifts.
The First Reading shows God praising the humble and lowly and exhorting us to Seek the Lord. Seek humility.
The Second Reading reminds us that God chooses those whom the world views as weak. He chooses the humble.
How doe we choose humility?
How do we learn humility?
To make it easy, I'd like to suggest five Ts in learning humility.
The first T is to be Truthful.
Saint Vincent de Paul said Humility is nothing but truth, and pride is nothing but lying.
Being truthful means allowing God to be God and remembering that we are not God.
We are not the Creator, we are His creatures.
We are the not Savior, we are the ones He saves.
Being truthful means to be real about who we are – our gifts and talents, but honest about our weaknesses and shortcomings.
To accept we are human and not perfect, but striving to do our best.
To take off any masks we might be wearing and be the truest – realest – version of ourselves.
The second T is to be Thankful.
Humility comes from being thankful – grateful.
To see everything as a gift.
To find the blessing and opportunity for grace in every situation.
To realize our gifts and talents as blessings from God.
To recognize all that is done for us and given to us by God and others.
And to express our gratitude. To say thank you for all that we receive – big or small – perfect and not so perfect.
That's humility.
The third T is to be Teachable.
A key to humility is knowing that we don't' know it all.
To keep our hearts and minds open to learning.
To acknowledge that we can be wrong sometimes.
To allow others and life lesson to teach us.
That's humility.
The fourth T is to be Tender.
To practice tender loving kindness.
To be good to be others.
To put others before ourselves.
Where do we start? Jesus gives us a list in the Beatitudes: the poor, the meek, the mourning, the persecuted, the hungry.
That's humility.
The fifth T is to be Trustful
To trust that God knows what He is doing.
To trust that God's mercy is bigger that our biggest sin.
To trust that God hears us when we call out to Him.
To trust that God will be give us the strength to face any challenge.
To trust that we are loved by God more that we could ever imagine.
That's humility.
This week, let's look for ways to choose and learn humility. Let us be truthful, thankful, teachable, tender, and trusting. Let us lead with humility, a humility that leads us to Jesus.
Father Neil Sullivan